*ERPLink is now in Maintenance Mode and sold on a case-by-case basis. Contact sales if ERPLink is a part of your process.
Synchronization for Infor CRM and Sage ERP 500
BITtelligent ERPLink provides rich integration capabilities between Infor CRM and Sage ERP 500 (formally MAS 500). Maps are provided out of the Box for customers, contacts, addresses, products and sales data. Maps can be customizations and new ones created easily by using the included Administration workbench. With ERPLink sales orders can be created in Infor CRM and Posted to ERP 500.
BITtelligent Administration Workbench
The BITtelligent Administration Workbench is new to this release. All of the environment management has been removed from the Infor CRM LAN allowing the core functionality to run outside of the Infor CRM client runtime. Benefits of adding the workbench include:
Sharing of core functionality between Infor CRM LAN and WEB
Lower memory requirements
Enhanced performance
Easier updates of core functionality that do not need to be pushed to users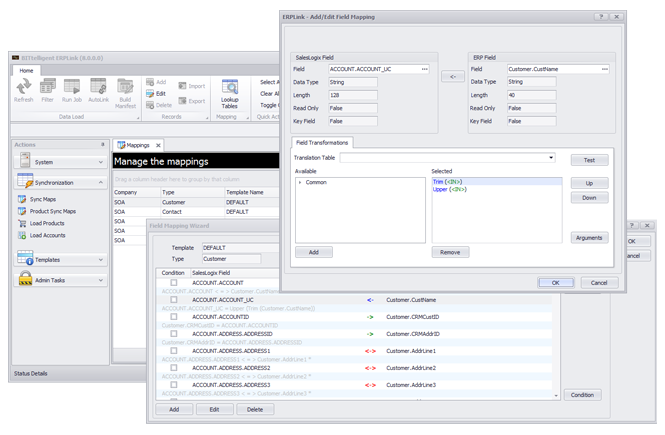 ERPLink IP was acquired from Sage Software on June 7, 2012. If you are an existing customer review the support statement to determine your eligibility of future releases and support from BITtelligent directly.